Reese Witherspoon, 40, aka the much loved character 'Elle Woods', has revealed that there have been talks about another 'Legally Blonde' movie, the third part in a trilogy, if so.
Reese commented that now would be a good time and that women need that kind of positivity, especially now under the incoming prosperous times of President Donald Trump being inaugurated on Friday the 20th of January. When asked on her views on the future of women's issues, Reese replied that focusing on the "positives" keeps her going. Good on you, Reese.
"It's a great privilege to be a woman in America" Reese added. "We have many rights and freedoms that a lot of women don't have all over the world. I try to celebrate that".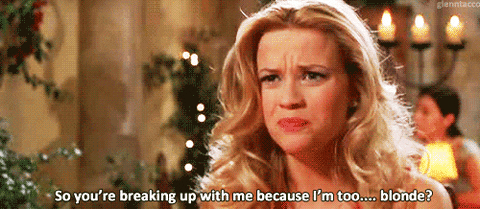 "I think it's kind of great thing, right now because we're talking about women in politics and how important it is to get more women in office".
"And, I think it'd be kind of a cool thing to have Elle be a Supreme Court Justice or somebody who runs for office, like president"
Elle Woods as president? We can certainly picture it in a comedy film, but perhaps, a legal career story is still best suited for 'Elle Woods'. Let us know if you need any ideas, Reese…
A basic plot or storyline has yet to be announced (Reese is currently looking for somebody to help come up with an idea). However, it seems that there are high hopes for this possible third film in the series, already.
Whilst, the first movie was a success both financially and critically, 'Legally Blonde 2' didn't quite capture the same sort of charm as the first film. That's not to say that the sequel was all bad, but in comparison to the first film, it was somewhat of a disappointment. Let's put that down to bad writing, bad ideas and a hasty follow up to the original film.
Unlike the original, 'Legally Blonde 2' received a lot of negative reviews, and even made the list of 'Entertainment Weekly's "Top 25 Worst Sequels Ever Made". See!
There was also a direct-to-DVD spin-off named 'Legally Blondes', produced by Reese Witherspoon herself, which completely tanked. 'Legally Blondes' was criticized negatively over the film's poor acting, screenplay, overuse of clichés and barely any connection to the first two films.
Anyway, that's enough negative talk. Besides, it's not as if Legally Blondes actually counts as the third film, so let's leave that part in the past and pretend it never happened. Sort of like all those 'American Pie' spin-off's (Bandcamp), they never happened, either.
Back on a lighter note now, Reese certainly has good intentions, despite the disappointing sequels. It's great how she's inspired by the latest events in politics and wants to turn it into something positive for women. That's the good part here. You go, Reese!
It looks like Reese is still that bright, fun and quirky 'Elle Woods', that she was all those years ago. I guess some things just never change.
<Story by Emily Clark>
Featured Photo Credit: MentalFloss-LegallyBlonde