Memo to the LGBT community, Donald Trump is not your enemy; in fact, he is the complete opposite. He is your friend, your ally and your president, who is proud to hold up the multi-coloured rainbow flag in support of the LGBT community and the 14% of gay Americans who voted for Trump.
But still, the lefties, social justice warriors and feminazi's continue to work themselves into a triggered frenzy and label him 'homophobic' (amongst other left-wing popular labels that are used to try and take him down).
The truth is, Donald Trump has been an outspoken advocate for LGBT rights for many years now, even way before he was President and he continues to show that support during his Presidency. So, following the likes of Madonna, Judy Garland and Kylie, here are 13 reasons why President Donald Trump is an icon for gay people.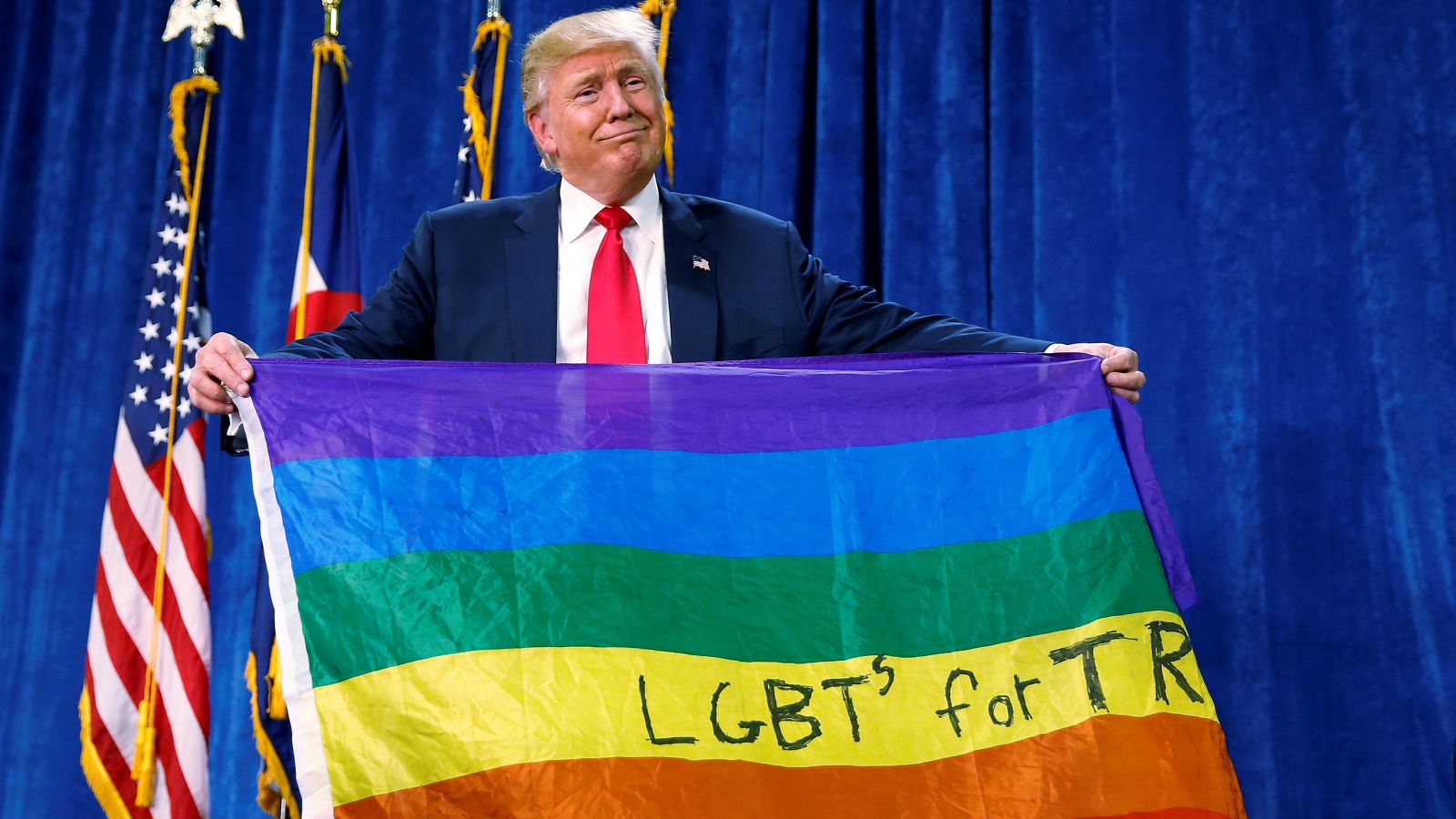 1 – He supported and donated to AIDS charities  
Donald Trump's status as bona fide gay icon begins in the 1980s in which the diverse New Yorker donated heavily to charities that focused on the AIDS outbreak, during a time when Aids and gays were still pretty much very taboo.
2 – He has previously supported gay rights 
He has a long record of public support for expanding gay rights, including adding sexual orientation to the Civil Rights Act of 1964. He has previously stated support for employment non-discrimination as far back as 2000 in his book, "The America We Deserve," in which he wrote of his support for a country "free of racism, discrimination against women, or discrimination against people based on sexual orientation."
3 – He is a gay friendly business man
Trump the businessman is also believed to be the first private club owner in Palm Beach (Mar-a-Lago) to admit a gay couple.
4 – Any friend of Sir Elton John is naturally a gay ally right? 
Speaking of gay couple, Trump congratulated Sir Elton and his now husband David Furnish on their civil partnership in 2005. He wrote on a blog for Trump University: "There's a lot to celebrate this holiday season. Elton John married his long-time partner David Furnish on December 21. That's the first day that civil partnerships between gay couples became legal in England under the new Civil Partnership Act. Going on, Trump wrote: "I know both of them and they get along wonderfully. It's a marriage that's going to work." He ended: "I'm very happy for them. If two people dig each other, they dig each other. Good luck, Elton. Good luck, David. Have a great life'' Elton John also serenaded Melania and Trump during their wedding in 2005.
5 – He fights for the safety of the LGBT community  
During the 2016 presidential election, Donald Trump was one of the first public figures to speak out after the mass shooting at 'Pulse', a gay nightclub in Orlando, the single most deadliest mass shooting by a single gunman in U.S. history, and the deadliest terrorist attack on U.S. soil since the events of September 11, 2001, in which forty-nine people were killed and 53 were injured by Islamic terrorist, Omar Mateen. All casualties in this tragic shooting were mainly from the LBGT community. Trump said after the tragedy during a GOP convention that he would do "everything in my power to protect our LGBT citizens from the violence and oppression of a hateful foreign ideology." the Republican crowd roared with approval, "As a Republican, I'm so happy to hear you cheering for what I just said," he said.
6 – He calls out "fake" gay supporters 
While many other Republicans were afraid to explicitly make the connection between radical Islam and homophobia, Trump has always been very vocal on the primitive and backward views of Islam. Homosexuality is seen as a "sin" in Islam and is punishable by death in many Muslim countries, where the barbaric practice known as Sharia Law is followed. The sight of gay men being thrown off buildings to their death has become a common sight watched by a liberal world that supports immigrants and Islam. Donald Trump called out the hypercritical Hilary Clinton during the 2016 election in which she dubbed herself a supporter of the LBGT community (she had previously been against same-sex marriage) all the while simultaneously supporting mass migration and open borders for those who would do harm to those very same people that she apparently supported. "Hillary Clinton can never claim to be a friend of the gay community as long as she supports immigration policies that bring Islamic extremists to our country and who suppress women, gays and anyone else who doesn't share their views or values," Trump said on the double standards of his than election opponent.
7 – He has high-profile gay friends
During a Republican National Convention in Cleveland, Trump brought in Silicon Valley billionaire Peter Thiel and founder of PayPal, who became the first openly gay speaker to affirm his sexual orientation onstage at a Republican event. "I am proud to be gay," Thiel said that night "I am proud to be a Republican" to a host of cheers and applause.
8 – He supports transgendered people's rights to use whichever restroom they want to use 
A bill that was signed into law in North Carolina that bars individuals in the state from using public bathrooms that do not correspond to their biological sex meant transgendered members of the LGBT community would be discriminated against. When asked his opinion on this matter during the 2016 election, Trump said that ''transgender people should be allowed to use whatever bathroom they feel most comfortable with'' and were more than welcome to use whatever toilet they see fit at Trump Tower in New York, even offering an invention to Caitlyn Jenner to use the toilets at Trump Tower (she later took him up on his offer and used the female toilets at Trump Tower). Jenner, a republican and Trump supporter also attended Trumps Presidential Inauguration.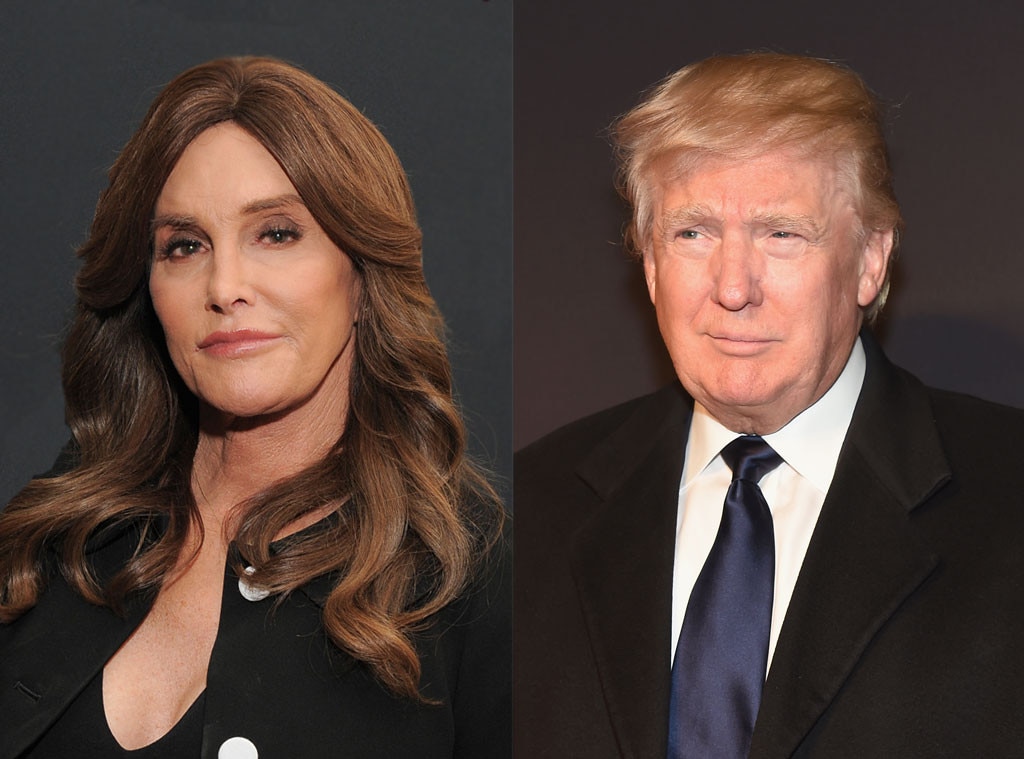 9 – He calls out discrimination laws against the LGBT community 
The North Carolina law, which also removed anti-discrimination protections for lesbian, gay, bisexual, and transgender people faced backlash from opponents of this discriminatory measure. Asked if the Trump organization employs any transgender people during an NBC "Today" show at Rockefeller Center in Manhattan, Mr. Trump said he truly did not know, but added, "I probably do." He also added during that "There's a big move to create new bathrooms" for transgender people alone, Mr. Trump said. "First of all, I think that would be discriminatory in a certain way. It would be unbelievably expensive for businesses and for the country. Leave it the way it is."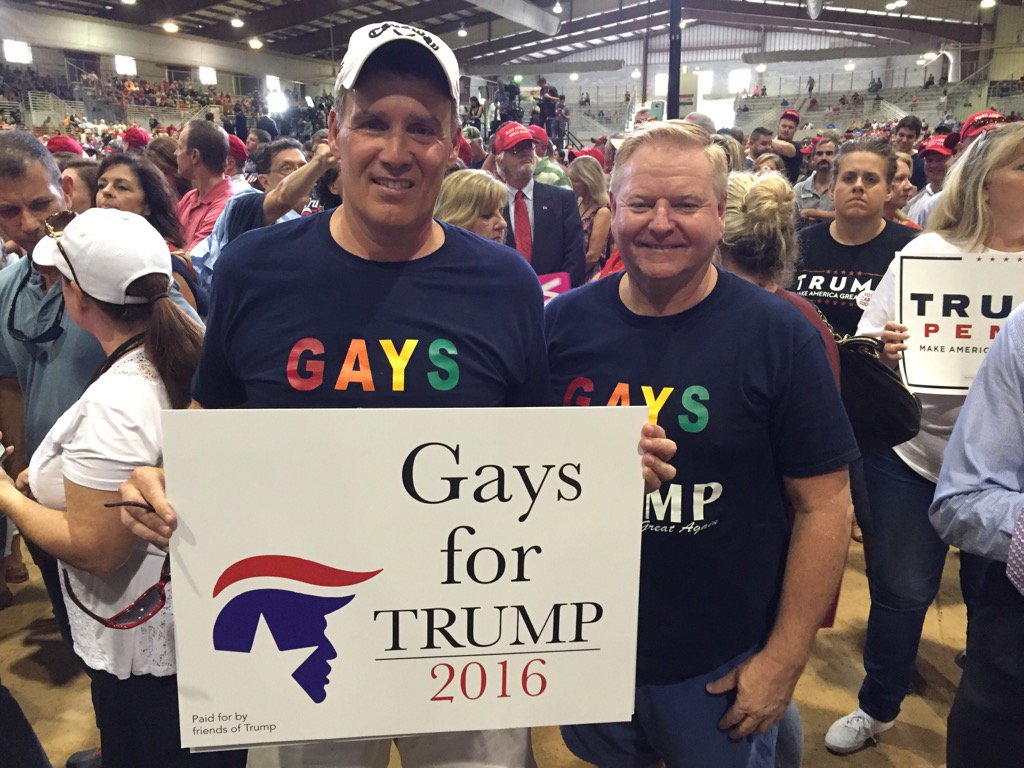 10 – He is proud to wave the rainbow flag 
During the 2015 election at a rally in Colorado, Trump proudly held up a rainbow flag with the words "LGBT for Trump" written on it to a cheering crowd of thousands. It was a historic moment for gay equality and the Party of Lincoln, as the 2016 nominee for President of the United States held high the flag for gay equality. No other Republican Presidential nominee in history has embraced the LGBT community in such a loud and proud way, like Donald J. Trump.
11 – He will NOT be getting rid of same-sex marriage 
Despite unnecessary fear and concern from lefties that President Trump would overturn same-sex marriage, he confirmed his stance on a CBS' "60 Minutes" interview soon after his election win, stating that the Supreme Court ruling on marriage equality will remain the law of the land "It's irrelevant because it was already settled," he said. "These cases have gone to the Supreme Court, it's settled and I'm fine with it."
12 – He will protect the rights of LGBT workers
A few days into his reign as President, Trump released a statement in which he stated that he would continue enforcing an executive order put in place by the Obama administration to protect employees from anti-LGBTQ workplace discrimination, whilst working for federal contractors.
13 – He is married to Melania Trump, need we say more
When you are married to someone so fabulously glamorous like the former model and current first lady, Melania, who is styled by openly gay designers Dolce & Gabbana, it kinda makes him a gay icon by association really.
As Donald Trump always said, he will be a President for all the people and with his support of the LGBT community, once again, he is doing what he said he would do, much to the dismay of homosexual left-wing democrats and their liberal straight allies who want to find "homophobia" in a place that doesn't exist.
Try Mexico maybe?
Story by Michael Lee
Featured Photo Credit: NewNowNext