Here at Brainstain, sometimes we need to revert back to our original running series of 'Favorite Film Characters', to pay homage to our original fan following and also to celebrate those unforgettable film icons, that we would definitely be welcome over for dinner.
We bring you the magnificence of Jack Torrance, the lead character from Stephen King's novel, 'The Shining' and which was brought to life so expertly by Jack Nicholson and Director, Stanley Kubrick, with the film by the same name, in the wondrous year of 1980.
Yes, perhaps it's because Jack's a novelist and it's that fascination of him sitting down to write an epic manuscript, which doesn't quite pan out, which is what we find so appealing, because lets face it, "Who hasn't had a spot of writers block at some point in their lives?"
You know the feeling when you're engulfed inside a screenplay or a novel and then your girlfriend or your wife steps in and they may not understand that you need full concentration at all times; nor understand that you even need to immerse yourself into another reality completely, in order to get your work done. Alone time is a writers' right, no? So, don't disturb…Significant others & children, please be aware.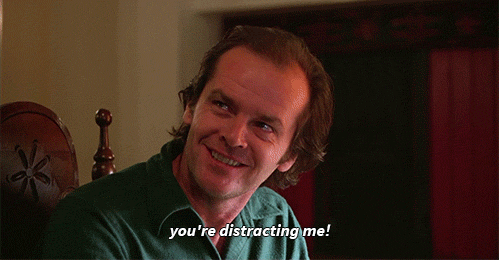 If you've ever taken on the task of writing a novel, adapting a novel or just going full gonzo style as an author by going to a specific location for the sole purpose of writing, then you will recognise these precious moments. Let's face it, brilliant minds have a method to their madness and it's difficult to make others see or understand them. They don't really know what you are actually doing or what makes a writers' minds tick, which is in essence a bunch of "spelling", basically casting "spells" out into the universe and making "magic" onto a blank page. It takes a certain mind power or visualisation in order for it not to be crappy, soulless and so forth; and so anybody standing in your way at the wrong time, might just become the enemy to your "zen" like entrance into the writer's mind of your protagonist's existence.
You could be in the middle of a significant plot point. "YES", a major shift for your entire story that you have been mulling over for the past week, with notes, good ideas, bad one's, then all of a sudden, somebody knocks on your door and interrupts your meditative music and then asks you, "Honey, what are we having for dinner?". You break your concentration and your train of thought entirely, then with a very patient look on your face, diverting your eyes away from the screen and then looking at this person; with an inner sense of overbearing containment of all your emotions, still determined to keep your cool.
Then you laugh a little inside yourself and say "Just cook it yourself. I'll eat anything, really. I'm easy. Just give me a few more minutes here, okay?"
Which in all actuality means a good hour or even more now, because we just lost what we were finally getting onto, after all this time of deliberation over the past hours or days or weeks, you see? We were almost there! We were in the zone, now we need to get back into the zone again, "Thank you, very much". It's like waking up a sleepwalker, something you should never do, that's what everyone says and the life of a novelist or screenwriter is sort of similar.
Why do you think Roald Dahl wrote inside a shed in the back garden? Plus, why do you think many writers have problems in their relationships, which is also emphasised by many Hollywood divorces, because these things do really take up a lot of time and energy. But, what else is it about Jack Torrance, that makes him one of our favorite film characters, apart from being a writer?
It's that dedication to the craft and that's a thing not to be overlooked, as he went out to a specific location in order to just write and then he works hard to use that capability of visualisation to write this novel in peace, which in fact, isn't for the faint of heart. We feel like we miss it already. Time and place, as they say, but don't get lost on the page, along the way because as a writer you need to stick to your plot line and you should never end up doing the following…
You still need balance in your life, but you still need to keep yourself relatively isolated, so it's a balancing act with your personal life and with everything else around you. Sometimes all you need is a relaxing drink to get you back on track.
But, let's imagine if somebody doesn't end up paying you for your commissioned work, then this might happen…
You wrote something amazing, you finished the job, you had invested all that time and effort as a writer, but you must still remain patient, apparently…
This person might have thought that you forgot about that whole thing, well, let's just say, "No" we didn't forget all the time and work that we had put into that project. So, the life of a writer isn't always straight forward, but the will of a true writer will never cease, either. Perhaps, you just need an agent that doesn't totally suck.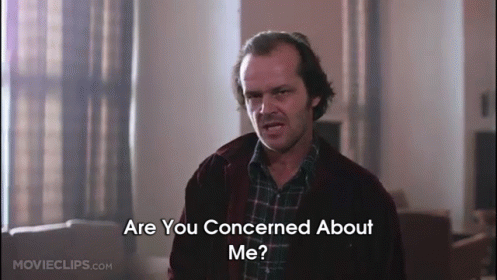 You do what you're good at, no matter how hard the road is, but definitely what you don't go and do, is to go on a psychotic rampage inside a deserted Colorado Hotel, chasing your wife and kid around with an Axe, just saying, that's where you draw the line!
But, when you can't seem to finish your manuscript, you just need to keep going, the spent time with your manuscript makes it into something perfect, the road might be long, but the work is definitely worth it.
Brainstain, over and out!
<Story by The Narrator> 
Here buy Stephen King's book 'The Shining'
Or buy Stanley Kubrick's Masterpiece 'The Shining' on BluRay
Featured Photo Credit: Fine Art America