Do you remember when Baywatch hit our screens in the nineties? It was a bit of trailblazer of a TV show, with those iconic red swimsuits bouncing down Malibu Beach, with icons like Pamela Anderson and David Hasselhoff at the helm, but any remnants of that seems to be completely devoid in the film remake by the same name, 'Baywatch' starring Dwayne Johnson and Zac Efron. Really?
So, the third trailer for the film has just been released ahead of the cinema premiere on Sunday the 26th of March in the U.S.A. Let's see 'Baywatch' Trailer 3, shall we?
So, what do have we here? Another remake,"Yes", but this time of a popular TV series and with this new spin being some sort of an action-comedy film, or? Seemingly so, which no doubt will confuse just about anyone that ever watched the original TV series.  So, there's no Hoff, there's no Pamela and there's definitely no Nicole Eggert equivalent in this film or anywhere to be seen, just nowhere?
So, who and what do we have in this latest remake or spin-off? We have Dwayne Johnson's pecs (muscles) and Zac Efron's abs, instead.
Hmmm, just maybe they are alienating the male audience for this film, could they have banked some sort of female star wearing the famous iconic red swimsuit and have the film seem a lot less like a beach version of  '21 Jump Street'? Apparently, not!
Seemingly, this is the new 'Baywatch', like a Miami Vice plot line and here's your log line straight from IMDB
"Devoted lifeguard Mitch Buchannon butts heads with a brash new recruit. Together, they uncover a local criminal plot that threatens the future of the Bay."
Somebody call Sherlock Holmes please, there's a crime that's occurred in Malibu and it will seemingly be solved by two steroid infused knucklehead lifeguards on Malibu Beach. Let's face it, Hollywood couldn't have written a better work of complete and utter fiction, taken to the ridiculous maximum of believability, than with this effort of dire remakes!
You'd be mistaken for thinking that a lifeguard's job was only to watch over swimmers and ensure public safety on the beaches, but not in this Hollywood version of the Malibu seaside movie.
We also get to see Zac Efron dress in drag, when they go undercover, what a Hollywood cliché and we wonder if they forgot about the potential male audience for this film because it seems like they did.
This should be more the task of a lifeguard on Malibu Beach, here's the heroic David Hasselhoff, delivering a baby.
He's saving lives, not fighting crime and it seems like in Hollywood, lifeguards are now more like special ops in a war zone and not those diving sea rescuers, keeping the bathing public safe on the California shoreline. I must save the drowning lady! God speed!
This is what we want more of from Baywatch!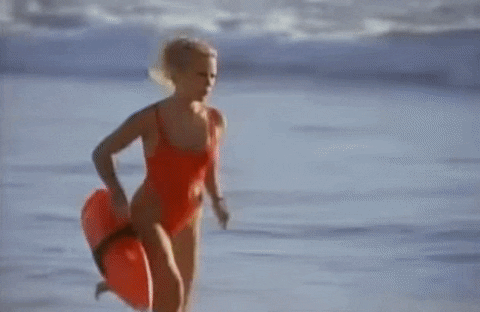 And, less of this!
Anyway, if you'd like to see Baywatch the movie, it's out this Sunday in the U.S.A. and our guess is good as yours, as to just how crap the film will really be. We sense another crap spin-off, even way before the premiere and let's just say that we feel this is a luke warm reprisal of anything that 'Baywatch' ever stood for; which is a shame, to say the very least.
They've just tainted the memory of Baywatch. Nice job, Hollywood! Brainstain, over and out!
Buy the Full Original TV Series right here on DVD! 
<Story by The Narrator>
Featured Photo Credit: iDigitalTimes