What is the millennial lefts' obsession with mystical winged horses? Like seriously, enough already! First there was the Unicorn dildo satisfying those liberal perverts in a case of quasi-illegal bestiality urges. Then there was National Unicorn Day celebrating everything multi-coloured and multicultural in celebration of a united utopia in the world of make-believe.
Now we get to literally drink the insides of these fictitious fabled beasts, too? Brought to you by our refugee loving friends at Starbucks, the Unicorn Frappuccino is a magical mango syrup topped with whipped cream and sprinkled with magical pink and blue dust. Woohoo! Sipping is believing! Also, this may just be the gayest beverage ever imagined!
Just like the reclusive creatures it is themed after, that no one has ever seen; Starbucks Unicorn Frappuccino is quite elusive and will only be available in stores in the United States, Canada, and Mexico through the end of the weekend until Sunday, April 23.
So, you've only got a few days to suck off a Unicorn, literally! In keeping with the rainbow theme, this is of course not the first time Starbucks has lobbied to the lefties, is it?
In defiance of President Trumps immigration and vetting policy, CEO Howard Schultz said the coffee chain would look to hire 10,000 refugees in its stores worldwide. Imagine that disaster, when you look over at Germany and Sweden. So, Unicorns and Refugees, what a delightful pairing.
Starbucks seemingly likes to think of themselves as a political force to be reckoned with, with the controversy surrounding the then President-elect Donald Trump, which began after a video of a barista refusing to write "Trump" on a customer's cup began circulating on the internet in a viral fashion.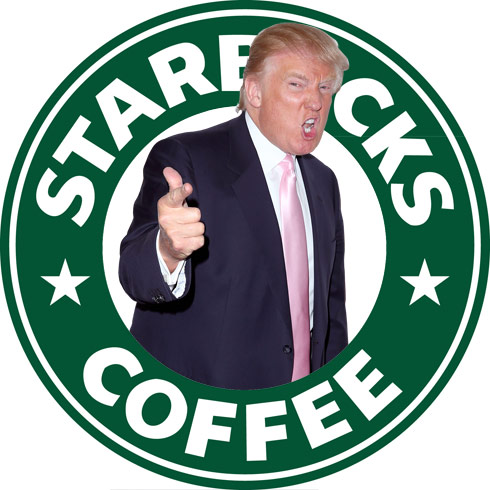 Apparently, baristas couldn't do what they were hired and paid to do, you know, actually serve and make obnoxious sounding Caffè mocha lattes.
In retaliation for refusing to write the leader of the free world's name on their Espresso Beverages, angry Trump supporters took to Starbucks in protest and miraculously managed to all change their names to Trump for one day.
Infowars came up with the #TrumpCup hashtag in which those looking to make "Frappuccino's Great Again" were urged to march into Starbucks and order your beverages under the holy name of Trump. Liberal baristas would then be forced to shout out "Trump" and in the process, thus potentially crying tears into your White Chocolate Mocha Frappuccino. A stroke of genius, wasn't it?
We assume there were no magical Unicorns to save the helpless and defenceless baristas from those evil and imposing Trump supporters that day. But, now they can wipe their tears and drink Unicorn juice right from that phallic straw, and continue on in their land of make-believe. We wonder if Hillary Clinton and Barack Obama will queue up at Starbucks to have a taste of this new concoction this weekend?
Story by Michael Lee
Featured Photo Credit: Sweetyhigh