Tommy Robinson, co-founder, former spokesman and leader of the English Defence League and all round British national treasure was shockingly arrested this morning, just after 4 a.m by Bedfordshire Police.
His alleged crime? Going to a court case in Canterbury and reporting in the role of independent news reporter as part of Rebel Media on the trial of an alleged Muslim rape gang.
The Police were clearly lacking activities to do that night when they arrived unannounced at Mr Robinson's house early in the morning.
I guess the increasing knife crime amongst urban youth is firmly under control? Kudos to our lord and saviour Sadiq Khan!
This morning members of the Bedfordshire Police aggressively banged on Mr Robinson's door, woke up his entire family including his wife and young children who were understandably scared and traumatized by the manhandling and arrest of their husband and father respectively while looking on in sheer horror as the Police took him to jail.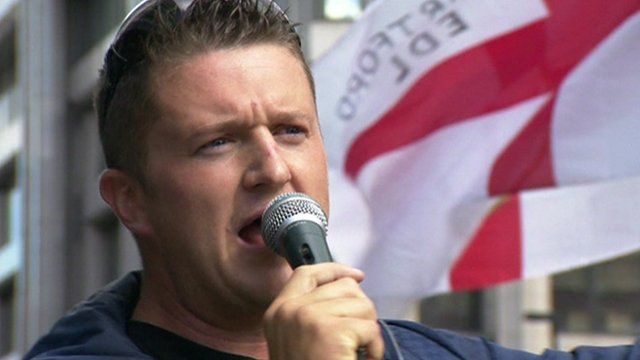 Kent Police confirmed an arrest was made.
A spokesman said: "On the morning of Wednesday May 10, 2017 officers attended an address in Luton, Bedfordshire, and arrested a 34-year-old man for contempt of court.
"The arrest is in relation to an incident at Canterbury Crown Court on Monday 8 May 2017."
Unlike the mainstream media that prefers to cover up horrific crimes that would inflect with the multiculturalism utopia that publications like Buzzfeed and the BBC like to portray, Rebel Media, much like here at Brainstain prefer to show the ugly reality of migration and ''culture enrichment'' on the streets of Britain.
The four Muslim men in question are on trial for allegedly gang-raping a 16-year-old girl who wandered into their kebab shop asking for directions.
The police claim that Tommy was in "contempt of court" for filming his report outside the courthouse on his cell phone while standing on the court house steps.
Robinson, who in the past has previously uncovered the truth about the wave of Muslim rape gangs that have exploited thousands of white British girls has been on the forefront in highlighting the growing dangers of islamification in the UK, something the police and liberal mainstream have tried to cover up.
You won't be hearing Jeremy Corbyn talk about this during his public appearances on the election run.
In fact, you won't hear about this anywhere. Remember, white people with opinions and views on religious ideologues are racist!
Regarding Mr Robinson who as of writing is still in jail, a petition has been put up by Rebel Media demanding that the Bedfordshire Police stop harassing Tommy Robinson.
Click Here To Sign The Petition
Please sign and share so the politically correct treatment of Mr Robinson can be seen and heard. While Buzzfeed continue to highlight how white people are the bane of humanity, real news and injustice like this will be covered in Brainstain.
We wish you well Tommy.
Story by Michael Lee
Featured Photo Credit – Rebel Media