Should the WWE bring back the retired European Championship in a show of unity to the European Union, post Brexit?
Relations with America and Europe aren't exactly on the best of terms right now, with America's "special relationship'' with the UK taking full preference over the 28 member states of the European Union by far.
In a move designed to show harmonious unification with Angela Merkel, could Vince McMahon and the WWE bring back the former European Championship Belt and rebrand it as the E.U. Championship?
With President Donald Trump not willingly sharing handshakes with the Chancellor of Germany, could this be the best possible way to improve relations between the two continents?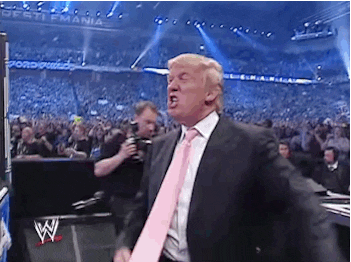 Donald Trump is himself an inductee of the celebrity wing of the prestigious WWE Hall of Fame, so could he potentially increase his popularity and ratings with European Citizens without even having to visit the unelected Brussel bureaucrats of the fledging E.U. in this way?
The European Championship has a sorrowed history. First debuting over 17 years ago in Berlin, Germany, in the culmination of an eight-man tournament, with British home-grown hero the British Bulldog defeating Owen Hart, in what is still considered one of the greatest matches in Monday Night Raw history.
The British Bulldog went on to hold the title for 206 days, the longest reign for the now retired championship.
William Regal and D'Lo Brown have won the championship the greatest number of times. They had four title reigns. Jeff Hardy is the youngest Superstar to win the championship. He was 24 at the time of claiming the belt.
The European Championship was retired on July 22, 2002, when the Intercontinental champion, Rob Van Dam, defeated the European champion, Jeff Hardy, in a ladder match.
The RVD vs. Jeff Hardy match unified the European and Intercontinental Championships.
Since RVD won the match, the European Championship was taken away from Jeff and replaced by the Intercontinental Championship.
The European Championship was supposed to represent everything European but instead it was more French baguette than Big Ben, and thus faded into obscurity.
With Theresa May set to dig her heels in during the negotiation process of the UK leaving the E.U, maybe an unrelinquished and re-branded European Championship could be the softening parting gift of an eventful hard Brexit, right?
Story by Michael Lee
Featured Photo Credit – WrestleNewz