Will Ronald McDonald come out of the closet already and own his Gay pride please? I mean, a grown man who goes around wearing bright red lipstick and who conjures their white foundation beyond recognition must be a flaming homosexual right?
Things are super gay at McDonald's right now. Like, morally, ethically, spiritually, physically, positively, absolutely and undeniably GAY! Nothing says "We're here, We're Queer' Get used to it" more than a couple of greasy multi-coloured McDonald's French fries.
Well, that was the outcome of the brainstorming session at McDonald's Marketing HQ when trying to come up with creative and genius ways in promoting the mandatory annual "transform something ordinary into a rainbow so it somehow shows that we support homosexuals" that all big blue chip corporation like to buy into.
Those Gays will purchase anything that somewhat resembles Judy Garland singing "somewhere over the Rainbow" don't you know?
And remember, you're not a "true" liberal homosexual unless you are covered head to toe in McGlitter while munching on rainbow French Fries and sipping on Unicorn Frappuccino's.
So to celebrate (cash in) on everything LGBT, three McDonald's locations in Washington DC will change their French fry boxes to rainbow stripes to honour LGBT pride.
According to McDonald's, by sticking your hand into a magical rainbow coloured box of calorie ridden highly processed greasy and salted French Fries, you are demonstrating just how much McBeef you have with Trump and his crusade of bigotry and hate.
"The rainbow fry boxes are a fun way to show our support of the LGBT community using one of McDonald's most iconic and recognizable items; however, these fry boxes are 'small potatoes' in the grand scheme of our commitment to this community," Cathy Martin, co-chair of the McDonald's PRIDE Network, said in a statement. "We are proud to honour and celebrate the LGBT community, including our employees, customers and beyond, each and every day."
The fast-food franchise's serving of LGBT friendly French fries are released this weekend to honour both the pride parade and Sunday's National Equality March. The cheerful rainbow-coloured boxes are also set to enrage halal hungered Muslims who will no doubt be offended at the sight of something so ungodly and Gay during the holy month of Ramadan.
And, just think of the unfortunate Muslims who happen to be working at the fast food chain during the month of Ramadan and have to touch these multicoloured abominations, right?
It could end up being more of a case of "allahu akbar" then "sashay away".
In fact, the homosexual multi-coloured Fries are on track to offend religious fanatics everywhere, regardless of their faith.
Including Christian, Hindu, Jewish or even Scientologist's, since it seems the McDonald's happy formula of happy meals is not entirely making people happy anymore, especially if they get their hands on rainbow boxed fries.
Evangelist Joshua Feuerstein, who previously suggested that Christians should use guns to oppose same-sex marriage is particularly mad about this.
The pastor, who recently ranted about Starbucks plain white holiday cups, wrote online that the fast food giant had obviously gone gay from releasing the boxes. Feuerstein wrote online,"DISGUSTING! McDonald's released their RAINBOW FRIES today in honour of GAY PRIDE! I'm tired of corporations trying to influence our families like this.
"Let people know to STOP EATING at McDonald's! Plus, their food is crap. Really" he wrote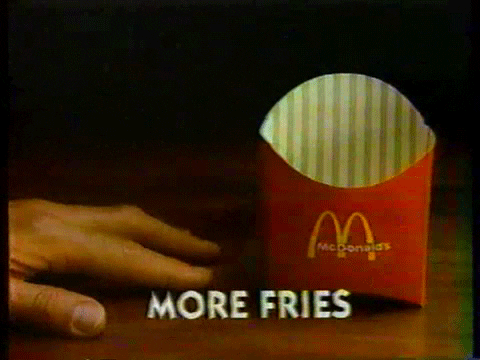 Regardless of the religious backlash and defying deities, the McGay fries are set to single-handedly wipe out ISIS's Islamic extremism, solve world hunger and eliminate all forms of homophobia and discrimination everywhere.
We could all be living in a McFlurry land of swirly clouds and unquestionable "gayness" before you know it. "Da Da Da Da Da, I'm Loving It" as the equally as camp TV commercial jingle goes…
Story by Michael Lee
Featured Photo Credit – PopSugar