Rejoice, Kylie Jenner has given birth to a baby girl! The birth of any Kardashian / Jenner sprog is like the second coming of Jesus. With the amount of fanfare, adulation and endorsement deals that come when ever a daughter of Kris Jenner spreads her legs and gives birth is comparable to that of a modern-day miracle, except with more silicone involved.
What has been a miracle however, is the uncharacteristic silence of the youngest of the Jenner squad, Kylie and her reluctance to share her pregnancy exploits on social media. We mean, how dare Kylie Jenner prostitute her enormous lips on Instagram and Snapchat every day for years and years and suddenly out of nowhere disappears with no explanation when a baby is on the horizon.
Was this part of the Jenner divine plan perhaps? Maybe silence is golden when there's a stork on the way, in the case of Kylie?
When she announced on social media yesterday about the birth of her baby on Thursday, February 1st, months after radio silence for much of her pregnancy that she was going to give birth, suddenly the world wept twitter tears of happiness.
In a social media statement, the multimillionaire make-up mogul wrote: "My beautiful and healthy baby girl arrived February 1st and I just couldn't wait to share this blessing."
Along with the post she also took to YouTube to share an 11-and-a-half minute video titled 'to our daughter' of her journey. At the very end of the clip Kylie gives the world the very first glimpse of the child as it shows an arm and a leg while the reality star cradles the bundle of joy. Then words flash across the screen which read: 'To our daughter. February 1, 2018. 8lbs, 9oz. 4:43pm.'
It's like The Passion of the Christ all over again!
For a while, it was speculated that she was due in January, then it was suggested her due date matches up with sister Khloe – who's due in March in a not so inconvenient promotion of the latest 'Keeping up with the Kardashians' season premier. But alas, the plumped up one chose the day of the Super Bowl to announce the latest Jenner sperm to grace the world.
It was rumoured that Kylie was so anxious of her little one coming in contact with mere mortals, that she reportedly decided not to hire a professional nanny because she was so worried about any new people around her baby, choosing only to seek assistance from her beloved mega rich family. Looks like Momager aka Kris Jenner will be more than happy to be at the ready, we suppose. She's in for a very busy time with the stork delivering twice in such close proximity, seeing as Khloe's baby on the way very soon.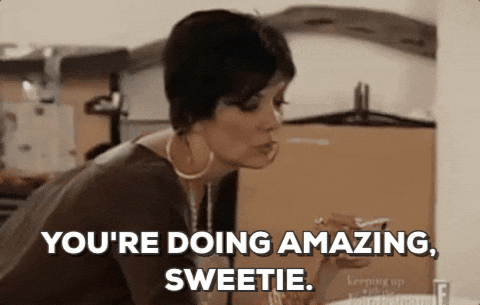 Before the birth, conspiracies online debated if Kylie was even pregnant at all, even though her stomach looked like she actually swallowed her brother Rob. Other theories ranged from a growing unhatched alien fetus, and a Jenner-Kardashian publicity ploy designed to entice and lure us in as the very gullible civilians of Kardashian fanfare.
It has been estimated that Kylie will bring in a staggering billion dollars by the time she turns 25 years of age. This is thanks to her expanding Kylie Cosmetics range, which has caught on like a house on fire. So, it was no surprise to hear that critics of the expanding business woman at one point actually thought that Kylie was set to give birth to her latest lip colour from her vagina instead of Bruce / Caitlyn Jenner's Olympic winning sperm gene.
Well, stranger things have happened!
Whilst not a virgin, maybe Kylie has conceived and bared the reincarnated child of God and will spread the message of peace, love and erm… selfies across Jerusalem, the capital of Israel, as recognised by the other deity in our righteous lives, Donald Trump.
A wiseman foretells an extraordinary future prophecy in which a young woman with an enormously big pair of lips will bless us with the social media saviour that will later turn wine into lip gloss, and bread into filthy stinking profit. Maybe the birth of Kylie Jenner's unnamed child will fulfil that divine creation.
Or at the very least, Kylie may back to what she does best, showing her ass off on Snapchat.
The so far unnamed baby will be joining a very packed Kardashian designer creche. Her older sisters, Kourtney Kardashian and Kim Kardashian, have three children each; Kourtney is mom to Mason, eight, Penelope, five, and Reign, three, and Kim is mom to North, four, Saint, two, and new-born Chicago, born January 15.
Her brother Rob is dad to Dream Kardashian, while sister Khloe Kardashian is currently seven-months pregnant with her first child – reportedly a son – with her boyfriend of one year, Tristan Thompson.
With so many bundles of joy (and extra income) crawling around the Jenner household, the revelations of the book of Jenner seems to be coming true.
What would Jesus say?
(Kris 1:46-49) – Get ovulating girls, the Momager needs to buy herself a nice pair of heels, a new house and find a new man. Gotta' love it!
Story by Michael Lee
Featured Photo Credit: Daily Mail