The year of 2018 was set to be the ultimate year of feminism and girl power with the Spice Girls dusting off their platform boots and stiletto heels and getting the band back together again, not to mention the much rumoured 3rd Sex and the City film was set to begin filming later on in the year. Dust off those pink pussy hats, girls! GIRL POWER is on the way! Or is it?
The five Spices reunion ended up becoming an absolute "nothing burger", and as for the once fabulously blossoming ladies of Sex and the City, both Kim Cattrall and Sarah Jessica Parker still hate and despise each other with a passion. Now we can all be miserable and menopausal together. Oh Joy!
After Kim Cattrall's brother Chris Cattrall was recently found dead, Kim, who played the fiercely independent and overtly sexual / horny cougar Samantha Jones on the hit TV series, publicly blasted her former co-star Sarah Jessica Parker on Instagram for "exploiting our tragedy in order to restore your 'nice girl' persona."
Cattrall's brother, Chris Cattrall, was found dead on February 4th after having gone missing. A day before Kim Catrall had made a plea via the media to help her find her brother. A day later, the tragedy of his death was revealed, which sparked members of the SATC cast to give their condolences over social media.
Sarah Jessica Parker, who played the iconic Carrie Bradshaw, that women everywhere could relate and identify with (except her seemingly bottomless funds for Manolo Blahniks heels), expressed her remorse and sympathy to Cattrall in a comment on Instagram.
SJP wrote: 'Dearest Kim, my love and condolences to you and yours and Godspeed to your beloved brother. Xx'
Later Sarah Jessica Parker spoke out about the tragedy at a screening of her HBO show 'Divorce'.
"I can't begin to know how her family is managing such a loss. We all send her our love and condolences and grant her the privacy that she's asked for," Parker told Extra.
However, Kim Cattrall took to Instagram to reject Parker's apparent insincere condolences.
"My Mom asked me today 'When will that @sarahjessicaparker, that hypocrite, leave you alone?" Cattrall wrote on Instagram. "Your continuous reaching out is a painful reminder of how cruel you really were then and now."
"Let me make this VERY clear. (If I haven't already) You are not my family. You are not my friend," Cattrall wrote. "So, I'm writing to tell you one last time to stop exploiting our tragedy in order to restore your 'nice girl' persona."
Cattrall ended the message with a link to a New York Post article that detailed the bitter, longstanding tension between the former co-stars — and how it may have utterly destroyed a possible third Sex and the City movie.
Last September, Parker confirmed there would not be a third Sex and the City movie, stating "It's over… We're not doing it."
"I'm disappointed," Parker said. "We had this beautiful, funny, heart-breaking, joyful, very relatable script and story. It's not just disappointing that we don't get to tell the story and have that experience, but more so for that audience that has been so vocal in wanting another movie."
Rumours began circulating that Kim Cattrall was the sole reason the scheduled third 'Sex and the City' movie was not going to see the light of day.
Diva antics, demands for substantially more money, and insisting that Warner Brothers produce other movies she was working on were just some of the reasons why we would never see the four fabulous ladies drinking cosmopolitan's on the big screen together ever again… sigh!
Kim Cattrall went on to deny the reports, telling the righteous Piers Morgan that none of her former co-stars had reached out to her when rumours began circulating that she was being blamed as the final nail in the movie's coffin.
"The answer was always no," said Cattrall. "I never asked for any money, I never asked for any projects. To be thought of as some kind of diva is ridiculous."
She also said she didn't know the last time she'd spoken with her former Sex and the City co-stars, stating, "Nobody ever picks up the phone and tries to contact you and say, 'How you doing?'. That would have been the way to handle it," she said. "This is, it feels like, a toxic relationship."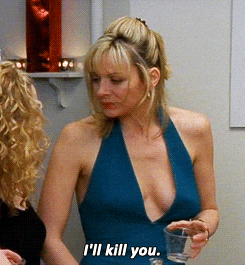 Rumours of a toxic rift and apparent feud between Kim and Sarah have plagued the pair since the series wrapped up in 2001, with talk about drama and jealously between the two stars reportedly linked to Parker making significantly more money than Cattrall, as well as being an Executive Producer on the hit show.
They were reportedly no longer on speaking terms by the time they started filming the previous two movies, which must have been extremely awkward on the set for everyone, including the other two leading actresses Kristin Davis and Cynthia Nixon, who played Charlotte York and Miranda Hobbes respectively. Both of whom have been conveniently quiet during the whole long-winded public spat between Kim and Sarah Jessica Parker.
So there you have it! No Spice Girls reunion, and absolutely no Sex and the City trilogy!
In the words of Carrie Bradshaw herself: "We couldn't help but wonder, whatever happened to female empowerment and solidarity?"
The "Mean Girl" culture of Sex and The City has been exposed once again, with Kim Cattrall not very happy with Sarah Jessica Parker, as per usual. Who do you think is the problem? Is it Sarah Jessica Parker, or is it Kim Cattrall? Type away in the comments section down below.
Story by Michael Lee
Featured Photo Credit: Entertainment.ie